How it Works
Patients
Employers
Providers
Blog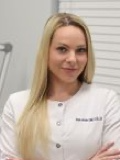 SPECIALTY
Plastic surgery/cosmetics/aesthetics
Licensed Medical Aesthetician, Certified Medical Electrologist and Laser Specialist Experienced and credentialed Medical Aesthetician licensed by the Department of Business and Professional Regulation Board of Cosmetology. Licensed by the Florida Department of Health as a Certified Medical Electrologist. Licensed by the Society for Clinical and Medical Hair Removal as a Laser Specialist. Her passion for aesthetics has driven her to master a variety of cosmetic procedures which include laser hair removal, skin rejuvenation treatments; fractional laser resurfacing, IPL laser therapy, medical facials and much more. Anya offers free cosmetic consultations to educate patients on how to best enhance their natural beauty as well as how to camouflage imperfections after surgical procedures. Best of all, she customizes regimens for each patient to optimize long term results as well as advises patients on how to leverage skin care treatments.
SERVICES/TREATMENTS
Hydrafacial is a four step facial cleansing process.
Intense pulsed light (IPL)
Sublative skin resurfacing
A radiofrequency treatment for fine scars and wrinkles
Facial botox/dysport per unit
Facial botox are botox injections used to paralyze facial muscles and soften lines and wrinkles.