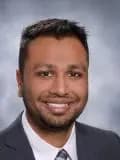 SPECIALTY
Rheumatology
Dr. Jigar Shah, MD is a rheumatology specialist in Margate, FL and has over 13 years of experience in the medical field. Dr. Shah has extensive experience in Osteoporosis & Screening. He graduated from St George's Hospital Medical School in 2009. He is affiliated with medical facilities such as Hca Florida Northwest Hospital and Broward Health Coral Springs. His office accepts new patients and telehealth appointments.
SERVICES/TREATMENTS
New patient visit-rheumatology
Follow up visit-rheumatology
Joint injections-rheumatology
Knee with ultrasound guidance
Joint injections-rheumatology
Hip with ultrasound guidance
Joint injections-rheumatology
Joint injections or aspirations (taking fluid out of a joint) are performed in an office or hospital setting, often with a cold spray or other local anesthesia. After the skin surface is thoroughly cleaned, a needle in injected directly into a joint. At this point, either joint fluid can be removed (aspirated) and used for appropriate laboratory testing, or steroids can be injected into the joint. The steroid treats the inflammation inside the joint, leading to decreased swelling and pain.