How it Works
Patients
Employers
Providers
Blog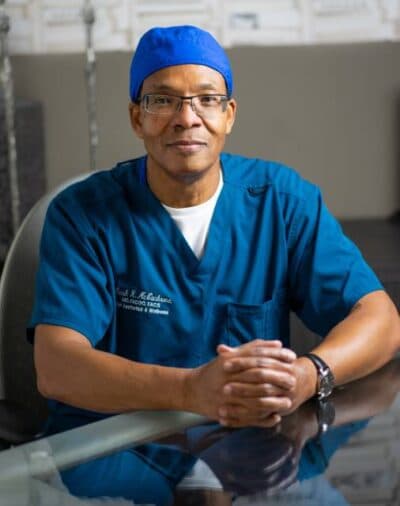 SPECIALTY
OB/GYN
Dr. Marsh McEachrane is a Board Certified Obstetrician-Gynecologist who has been in practice, in Broward County Florida since 1991. He completed his undergraduate studies at McMaster University in Hamilton, Ontario Canada. He then went on to complete his medical degree at the University of Maryland School of Medicine, in Baltimore Maryland, USA. From there, he completed his post graduate training with specialization in Obstetric's & Gynecology at McGill University Medical System in Montreal, Quebec Canada. Dr. McEachrane is a certified da Vinci Robotic surgeon. The specialty, Obstetrics and Gynecology is like no other in medicine. From the reproductive years through to the post-menopausal years, the disease processes that can affect the female body require the expertise of a skilled physician; this special care is what Dr. McEachrane believes he can provide to his patients.
SERVICES/TREATMENTS
Includes urine check, outside studies billed separately by respective centers
Initial well visit - Ob/Gyn with PAP smear
Initial visit - Ob/Gyn for particular problem
Follow up visit - Ob/Gyn established patient - w/ PAP
Follow up visit - Ob/Gyn established patient - w/o PAP
Colposcopy is a diagnostic procedure where an illuminated magnified inspection of the vulva, vagina and cervix can detect premalignant and cancerous conditions. It is best done away from periods, doesn't take long and not painful. If a biopsy is needed there may be some discomfort.
Colposcopy with biopsy/curettage
A telescopic look at the cervix and biopsy
Colposcopy with biopsy of cervix
A telescopic look at the cervix
Cryoablation of the cervix is an office procedure where a freezing gas (liquid nitrogen) freezes and destroys precancerous cells on the cervix. It's relatively painless and usually two freeze-thaw cycles are performed.
An endometrial biopsy is the removal of a tissue sample from the lining of the uterus and commonly done to diagnose bleeding conditions. The procedure is done in the office, can take a few minutes and is painful.
Urodynamics test - Ob/Gyn
Urodynamics is small catheter test to see how well the bladder holds and releases urine.
Cervical biopsy/polypectomy
Removal of cervical polyp
Wart/condyloma removal - Ob/Gyn
Removal of warts/condylomas
Dilation and curettage (D&C)
Along with dilation and curettage (D&C)
Inspection of the uterine cavity with a telescope
Incision/drainage of Bartholin's abscess - Ob/Gyn
Drainage of Batholin's abscess
Incision/drainage vulva/perineal abscess - Ob/Gyn
Drainage of vulvar abscess
NovaSure endometrial ablation
A radiofrequency abalation of endometrium
Ultrasound - obstetric - Ob/Gyn
Ultrasound - pelvis - Ob/Gyn
Vaginal removal of standard IUD
IUD - nexplanon with insertion
A type of intrauterine device
IUD - removal and insertion of new nexplanon
A type of intrauterine device - removal and replacement
IUD - paraguard insertion
A type of intrauterine device
A type of intrauterine device
A type of intrauterine device
A type of intrauterine device (IUD)
Injection - gardisil - Ob/Gyn
A vaccine to prevent certain papilloma viruses
Total obstetric care/vaginal delivery - excluding hospital costs
Doesn't include hospital or anesthesia costs
Total obstetric care/C-section - excluding hospital costs
Doesn't include hospital or anesthesia costs