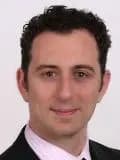 SPECIALTY
Neurosurgery
Dr. Elad Levy, MD is a neurosurgery specialist in Buffalo, NY and has over 25 years of experience in the medical field. Dr. Levy has extensive experience in Neurocritical Care Disorders. He graduated from GEORGE WASHINGTON UNIVERSITY / SCHOOL OF MEDICINE AND HEALTH SCIENCES in 1997. He is affiliated with Buffalo General Medical Center. His office accepts new patients.
SERVICES/TREATMENTS
Follow up visit - neurosurgery
A follow up visit is to review patient's current status.
New patient evaluation - neurosurgery
A new patient visit begins to evaluate a patient's specific complaints.