How it Works
Patients
Employers
Providers
Blog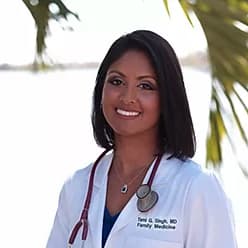 T. Singh, MD
Coral Springs - Female
SPECIALTY
Family Health
Caring for patients the way I want myself and family to be cared for.
SERVICES/TREATMENTS
Initial visit - family practice
Telemedicine - follow up-family practice.
Physical exam-family medicine.
General medical exam to address patient concerns
Pediatric/sports physical
General examination to assess fitness for sports activities
Includes the PAP smear. Does not include cost of pathology.
Pre-surgery clearance + EKG
Physical to determine fitness for surgery/anesthesia
An urgent visit to address concerns
An electrocardiogram checks the electrical activity of the heart
A pregnancy test checks the urine to see if that individual is pregant
Blood Draw - discounted labs extra
Taking a blood sample from a vein using a needle and syringe
Ear wax removal - single ear
Removing ear wax by irrigation
Using liquid nitrogen to freeze warts.
Cutting and removing sutures.
A urine test to check for various medical disorders
Removing an intra-uterine device